Whilst you are focused on making ends meet and getting used to more social contact, the economy marches on. As an estate planning attorney in Austin, Tx, I get many clients who wonder how the last year's tumult may affect their wealth plans. Because I prepare estate plans and comprehensive wealth plans, and retirement planning for clients, I necessarily keep abreast of financial developments that may affect my clients. In this post, I'll share a few of the financial indicators that I track consistently and provide you with a brief economic snapshot.
The most closely watched of key financial indicators, the monthly unemployment numbers, surprised on the upside for June 2021, adding another 850,000 new jobs for the month: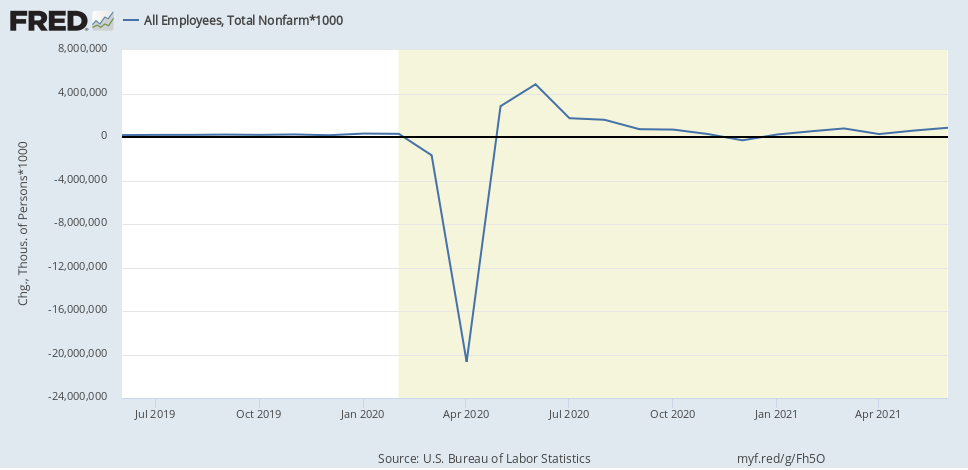 However, in context, the economy lost 20,000,000 jobs last April. We still have some way to get back to the trajectory we were on before the pandemic. Below, I have indexed the employment figures to 100 at the end of the 2009 recession for context as another way to look at this popular financial indicator.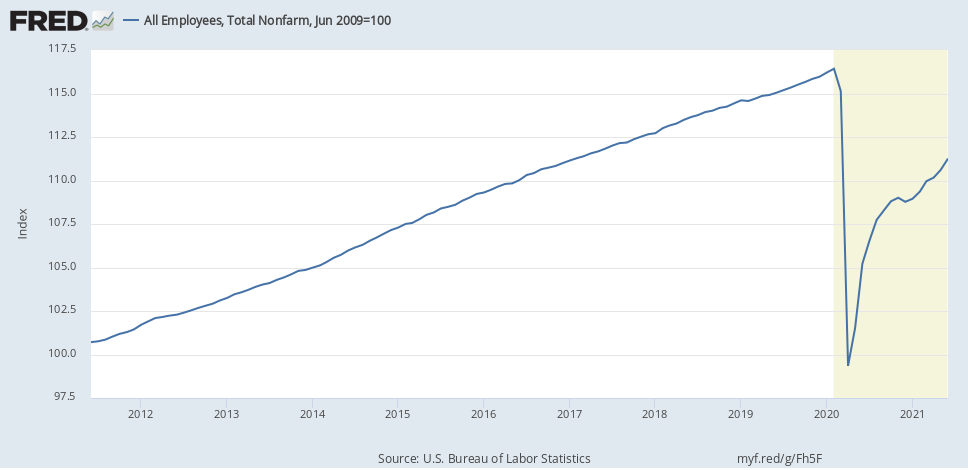 The re-entry of women into the workforce seems to have stalled, despite the promising headline number for all non-farm employees: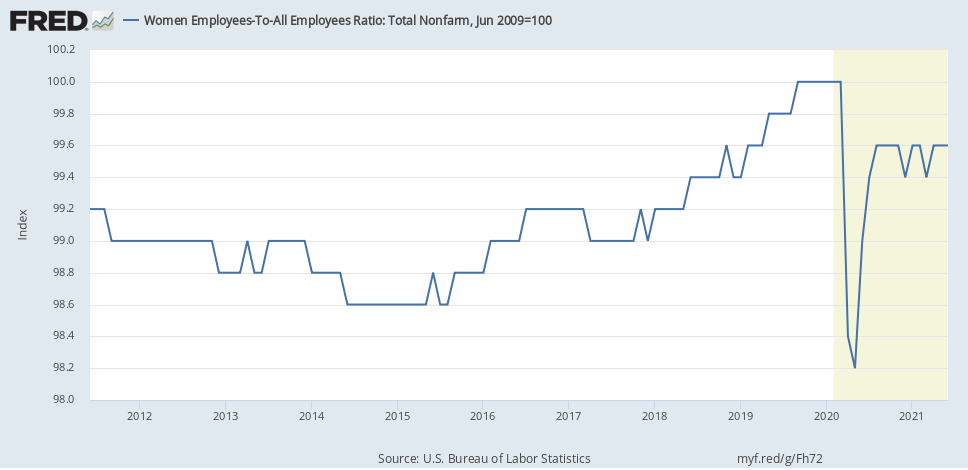 Worker power increases
The pandemic has seemed to shift the power balance between employees and employers in favor of employees. As part of the JOLTS financial indicator series, voluntary quits among employees have risen: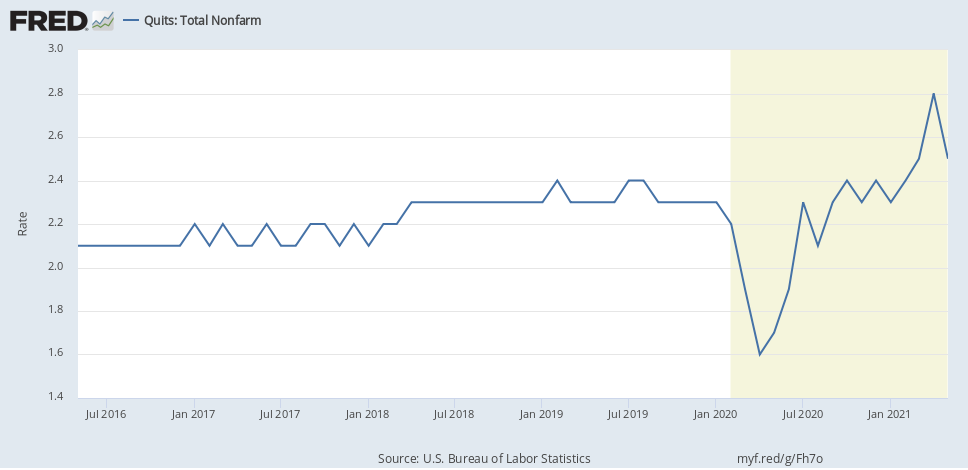 The supply of potential alternative opportunities has increased the ability of workers to find other jobs. The rate of job openings exceeds levels since this series started in December 2000: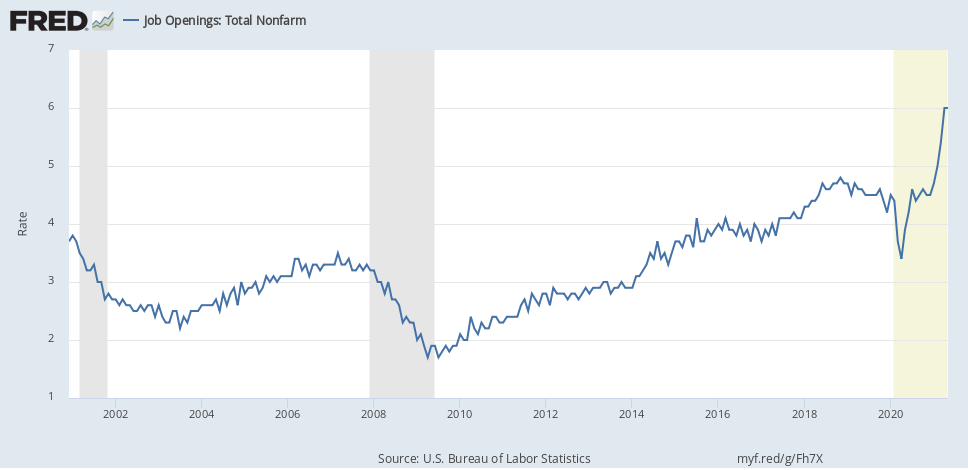 The higher demand for workers and the limited supply has provided workers with the ability to demand higher wages: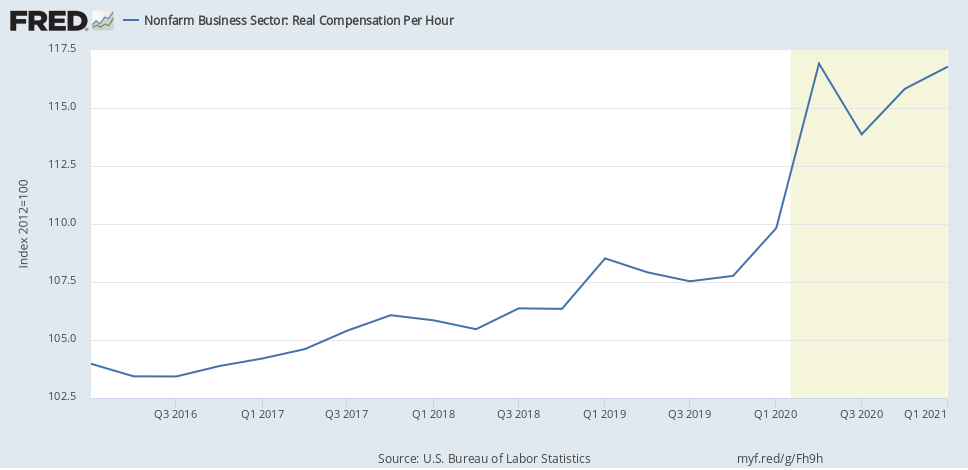 And, as we've discussed previously, there's been a lot of recent pearl-clutching about inflation. But, in context, the recent inflation data are notable, but not a concerning financial indicator:
(needless) inflation pearl-clutching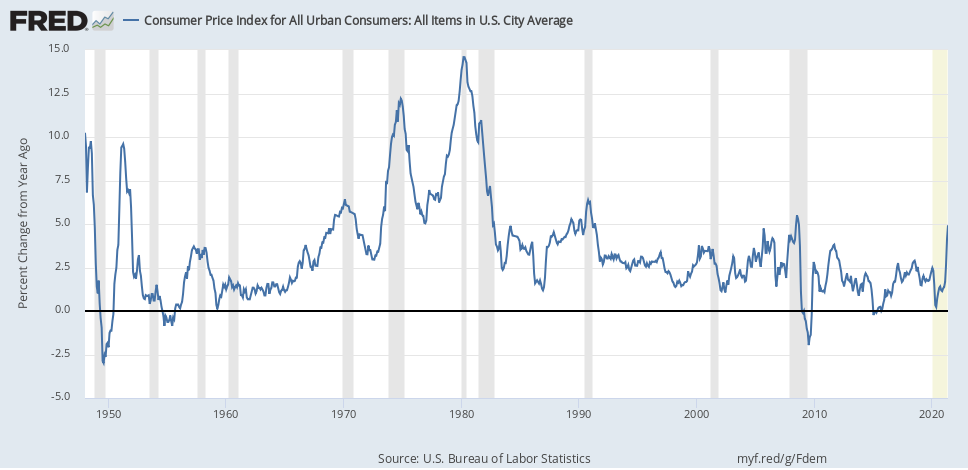 Inflation indicates wealth redistribution, presumably as a result of changes in supply and demand. The Consumer Price Index measures a basket of goods that the typical urban consumer might purchase regularly. It tells us that, on average, prices are increasing relative to last year. However, keep in mind that not all prices are increasing, necessarily. Prices generally go up. But the rate at which they go up - in a well-functioning market economy - depends on supply and demand factors. And, when prices go up, it encourages more supply. When businesses see an opportunity to make profits in a dynamic economy, they should theoretically jump at the chance to enter that market. Alternatively, they will seek to produce substitutes for a lower cost. This, in turn, will drive prices down in that market to mere economic profits.
Although this is how the American economy is supposed to work, there is considerable room for doubt, given the lack of antitrust enforcement in recent decades.
a v-shaped recovery, generally - but room for improvement
Although there is a general V-shaped recovery, there remains considerable room for improvement. This chart shows Real Gross Domestic Product (in red) compared to the Congressional Budget Office's estimate of Real Potential Gross Domestic Product (in blue). Here, this key financial indicator is measured in billions of chained 2012 dollars.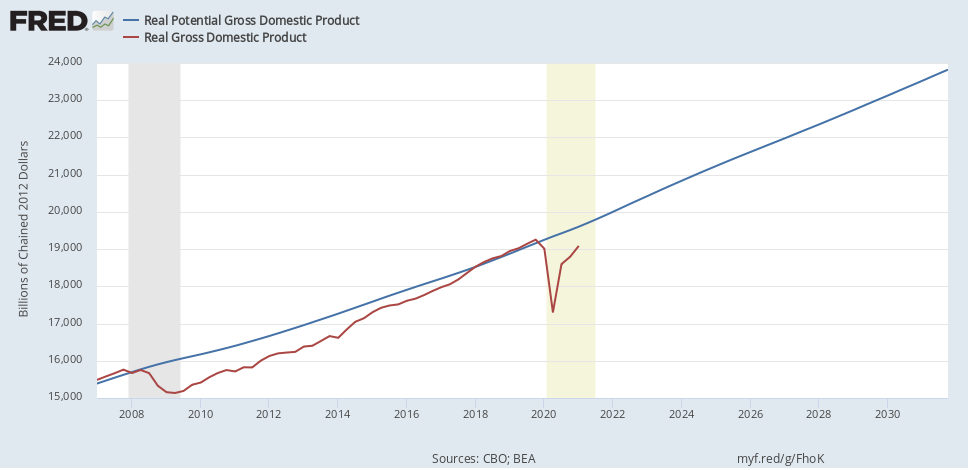 As you can see, there is considerable room for additional growth in the economy relative to our potential. Hopefully, the recovery will proceed faster than the post-Great Recession recovery. It took nearly 10 years for Real GDP to catch up to the CBO's estimate of potential Real GDP.
In summary, based on the above financial indicators, I remain hopeful for the economy's ability to absorb the labor shortages and price increases. The American economy can grow further if employers continue to take steps to entice potential employees off the sidelines and back to work. I expect that the return to in-person schooling in the Fall will provide more women with the opportunity to come back into the labor force. Depending on increasing vaccination rates and the effectiveness of the vaccines against further variants, the economy is positioned for continued growth.
Regarding your individual situation, I recommend that you work with someone who can contextualize your needs, desires, and dreams within a broader context. When you get an estate plan, you want more than just a collection of documents. You want a plan that effectuates your dreams for yourself and your family. For successful families, an estate plan is more than merely a box-checking exercise.
Rather, it is an opportunity to assess where you are today and consider where you want to be tomorrow. By combining comprehensive wealth planning and retirement planning with estate planning, you can increase the chances of achieving your own and your family's dreams.